Thanks for attending
See you next year
Encinitas Oktoberfest happened Sunday, Oct. 1, 2017!
22 Years Strong
The 22nd Annual Encinitas Chamber of Commerce Oktoberfest was held on Sunday, October 1, 2017 from 10:00 a.m. to 6:00 p.m. on Mountain Vista Drive and El Camino Real. This event was completely FREE and fun for the entire family!
FREE PARKING is available at the Flora Vista Elementary School (1690 Wandering Road) with FREE SHUTTLE SERVICE from the parking lot to the Oktoberfest site.
The event entertainment features authentic German music from The Bluebirds, the Gemütlichkeit Alpine Dancers, carnival rides, a street craft faire featuring 200 vendors and more!
The family food and refreshment tent along with the Keepin' It Local Craft Beer Garden will be serving authentic German food and beers from German & local San Diego breweries.
The event will kick off at 10:00am and include a ceremonial parade at 12:00pm.
There will be a family fun zone with children's rides, family oriented activities and much more.
Enjoy Your Stein!
INCLUDES ONE DRINK TICKET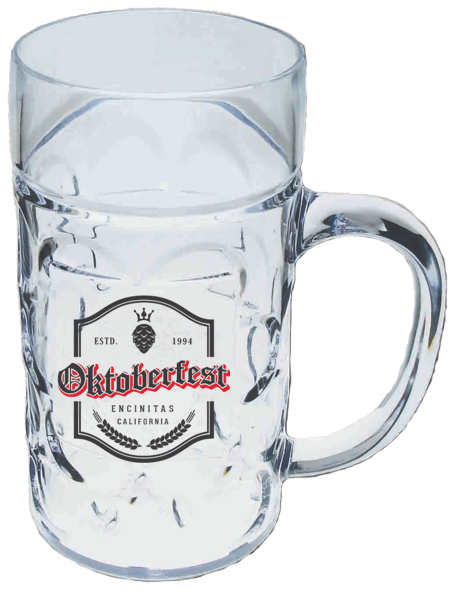 Keepin' It Local Craft Beer Garden
We are Proud to Announce the 2017 selection of Craft Beer at the Craft Beer Garden
The Craft Beer Garden will be located at the east end of Mountain View at the shuttle drop off. Beer starts pourin' at 11am!
Family Food and Beverage Tent
We are happy to announce that Tarantino's will be providing the food again this year and the beer will be quality selections from Germany's #1 Beer, Paulaner Beer, distributed locally by Crest Beverage.
The Family Food and Beverage Tent will be located at the west end of Mountain View close to El Camino Real. Festivities start at 10AM and the Parade starts at 12:00
Join the fun and volunteer!
EVENT INFO
The celebration kicks off at 10am with a ceremonial parade starting at noon. Come enjoy great German beers and family fun!
FOOD & BEVERAGES
In the Main family tent we'll have Tarantino Gourmet Sausage serving up authentic German food specialties along with a great selection of authentic Paulaner German beers, California wine and more!
MUSIC & FUN
German Oom-Pah-Pa band, The Bluebirds, authentic German dancers, The Gemuetlichkeit Alpine Dancers and more. Learn more about the entertainment this year.
GETTING THERE
Don't get stuck scrambling on the day of Oktoberfest. Get info on parking and directions to join the fun at Mountain Vista Drive and El Camino Real.
History
Encinitas' German roots go back to one of our five communities, the northeastern colony of Olivenhain, founded in 1884 by German farmers. The Encinitas Oktoberfest coincides with the Deutschland start of Oktoberfest in mid September. We first celebrated Oktoberfest in 1994 and the 2015 event will be the 20th annual. The Encinitas Heritage Oktoberfest starts at the corner of El Camino Real and flows down Mountain Vista Drive to Wandering Road and gives everyone a chance to eat, drink, shop and be German for the day. The event features about 200 craft booths, food (authentic German sausage and side dishes), cold beverages, Bavarian band, dancers, and more.